31 décembre 2010
Tout à l'heure j'ai vu que Shannon avait posté ses 10 pages préférées qu'elle a fait en 2010... j'ai trouvé l'idée sympa, et je me suis mise à regarder mes propres pages de 2010. Et du coup, je copie son idée et vous montre mes 10 pages préférées que j'ai faites en 2010 :
Lately I've seen on Shannon's blog her Top 10 layouts she made in 2010... I thought it was a nice idea, so I did the same (sorry :-) ) and I loved looking through my 2010 creations!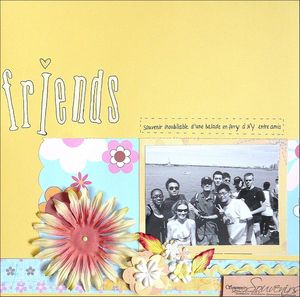 Sur celle-ci, j'aime les couleurs qui donnent la pêche, et surtout la photo, qui me rappelle un super souvenir !
On this one, I really love the shiny colors, and most of all, I love the picture which is a wonderful memory of NYC in 2008!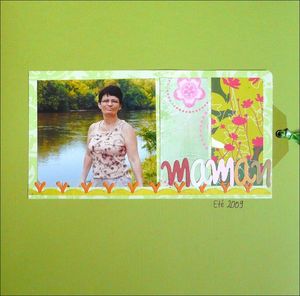 Celui-ci, c'est aussi pour la photo et pour la mise en page c&s... et le journaling caché!
On this one I love the picture too, and the c&s layout... and the hidden journaling, on the tag!
Pareil, une page c&s, et un super souvenir!
All the same, it's a wonderful memory of London!
Celle-ci parce qu'elle représente bien mon état d'esprit actuel... l'envie de liberté. Et j'aime les papillons !
I love this one because it tells a lot on my actual state of mind... I need liberty! And I love the butterflies ;-)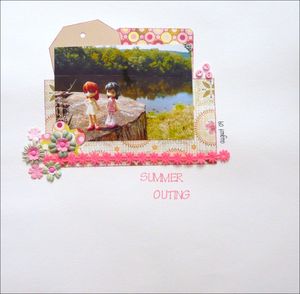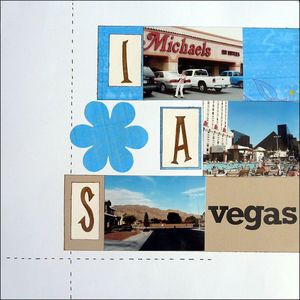 Celle-ci au début je ne l'aimais pas, je n'ai pas l'habitude de mettre plus de deux photos sur ma page... mais finalement, je la trouve vachement bien, et les photos sont géniales !
First I didn't like this LO... I'm not used at puting more than 2 pictures on my pages... but after all, I find it really good, I love the design, and the pictures are wonderful!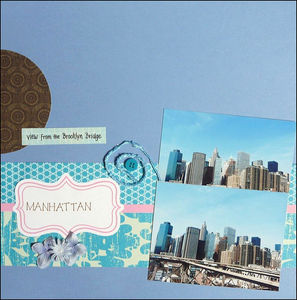 Ah, Manhattan... ce sont des photos de la première fois où j'y suis allée !
Ahhh... Manhattan... those are pictres I took the first time I went there!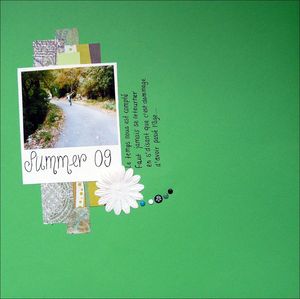 Cette photo ressemble un peu à une page plus haut... lol ! Eh bien je l'aime pour les mêmes raisons !
This pic looks like the one on the other LO... lol! Well, I love this page for the same reasons!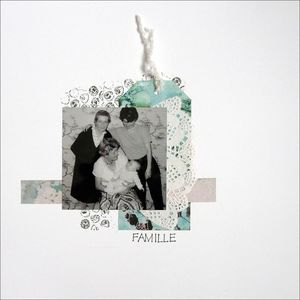 La famille... sur cette photo, il n'y a plus que deux personnes qui peuvent encore regarder cette page.
Family... on this picture, only two people can now see this page, my Mum and I.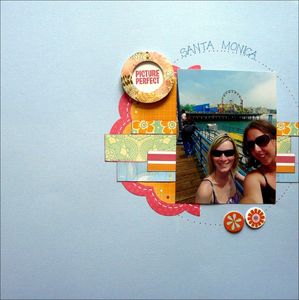 Santa Monica !! THE bonne surprise de Los Angeles ! Et une petite page aux couleurs vives, avec des formes arrondies qui rappellent la grande roue en arrière-plan !
Santa Monica!!! THE good surprise of LA! And a page with bright colors, with circles shapes that reminds the big wheel!
******************************************************************************************
Pour ceux (?) et celles qui me suivent depuis longtemps (j'espère qu'il y en a en fait LOL) vous avez suivi ma péripétie du déménagement de blog pour ensuite revenir sur canalblog (y'a pas à dire, on est bien ici :O) ).
Ce qui m'embêtait (jusqu'à aujourd'hui !) c'était le fait que mes messages soient éparpillés sur deux blogs (oui je suis maniaque, il n'en faut pas beaucoup pour m'embêter !) ; alors j'ai voulu trouver un moyen de récupérer le contenu de l'autre blog pour le mettre ici, sans avoir à recopier les messages uns à uns si possible...
Je vous le dis tout de suite, je n'y suis pas arrivée seule !
J'ai eu une aide précieuse d'un ami-qui-se-reconnaîtra-spéciale-dédicace-yo-! qui a réussi à récupérer TOUS les anciens messages (après avoir cherché pendant un bon moment MDR) et même ... les commentaires :-))
Enfin justement, à propos des commentaires ... on a remarqué qu'ils n'étaient plus du tout à la bonne date mais à la date à laquelle on a importé les contenus (vous suivez toujours ?) c'est-à-dire que pour un message publié en mars 2009, on a des commentaires de novembre 2010 (et ça, on n'a pas réussi à le changer ! Tant pis, même ma maniaquerie a fini par lâcher l'affaire !).
Et pourquoi je vous dis tout ça ?
Bah je suis contente, alors je l'exprime ! :-p
Alors oui, histoire de dire que mon message sert à quelque chose, je rajoute des chiffres, ça fait intelligent ; donc mon blog compte désormais :
- 3 ans et demi d'existence
- 416 messages
- 1961 commentaires (O_o)
- 37373 visites (Oh-My-God)
Je n'ai plus qu'à vous remercier... et espérer que tout cela continue en 2011 ;-) (pour me suivre, il y a ma newsletter en haut à gauche !) En tout cas je continuerai à poster un sketch par mois !
For those of you that follow me since the beginning of my blog-adventure, you know that I changed my platform blog to come back again on canalblog... (feels like home here!)
What I didn't like was that my posts were separated into two blogs, and I wanted them to be on the same one, without copying them one by one if possible.
I didn't succeed! I've been helped by a friend who-will-recognized-himself-hello-Toto who got all my messages and comments back! Youhou!
But... talking of the comments... there is a problem, actually the dates of the comments are not the good ones, the comments are dated according to the day we took them back (meaning that for a message posted on April 2009 will have comments of December 2010 for example)... Anyway, I'm fussy but not so much, so I'll let them like this!
Why do I write all this? Dunno, I'm happy so I'm sharing! But to look serious, I'm going to post some statistics :
- My blog is 3 and half year-old
- It counts 416 posts!
- 1961 comments (OMG!)
- 37373 visitors (re-OMG!)
I only have to thank you... and I wish you will continue to follow me next year! (To do so, I have a newsletter : write your e-mail in the box on the top of the left-side bar)
I don't know exactly what schedule I'll adopt... but I surely will continue to post a sketch by month for you! So stay tunned!
Commentaires
Poster un commentaire